The COVID-19 pandemic has affected populations across the globe, but those who struggle with poverty and count on food programs to meet their basic day-to-day needs are in an especially uncertain place. While coping with increased demand and a bottlenecked pipeline of food supply, food banks are desperate for funds to continue to serve their communities. Because of this, Windermere decided to challenge its offices to raise $250,000, every dollar of which would be matched by the Windermere Foundation and donated to food banks in the areas where Windermere operates. We titled it the "Neighbors in Need" fundraising campaign.
Neighbors in Need kicked off on April 21, with the goal of raising $250,000 by May 5. As word continued to spread, online donations and contributions from both our agents and the public began to increase. Neighbors in Need was given a boost by Seattle Seahawks starting safety Quandre Diggs in a heartfelt message encouraging support. Over the final 24 hours, leading up to the May 5 deadline, support poured in from across the Windermere family as the final figure exceeded the initial goal of $500,000, landing at a total of $690,000.
Neighbors in Need exemplifies Windermere's deep commitment to supporting our local communities, which traces back to 1989 when the Windermere Foundation first started. Since then, we've proudly raised more than $41 million for low-income and homeless families throughout the Western U.S.
On behalf of the Windermere Foundation to all those who joined the effort: Thank you. We could not have made this large of an impact without your help. We are humbled to be able to do our part to help those who need it most during these uncertain times.
---
This post originally appeared on the Windermere.com Blog
Posted on May 20, 2020 at 3:45 pm
Sandy Nicholls
Category:

Community, Windermere Foundation
Tagged

charity, Community, covid19, Feed, Food Banks, giving back, Local, Quandre Diggs, raise, Real estate, sandy nicholls, seahawks, Windermere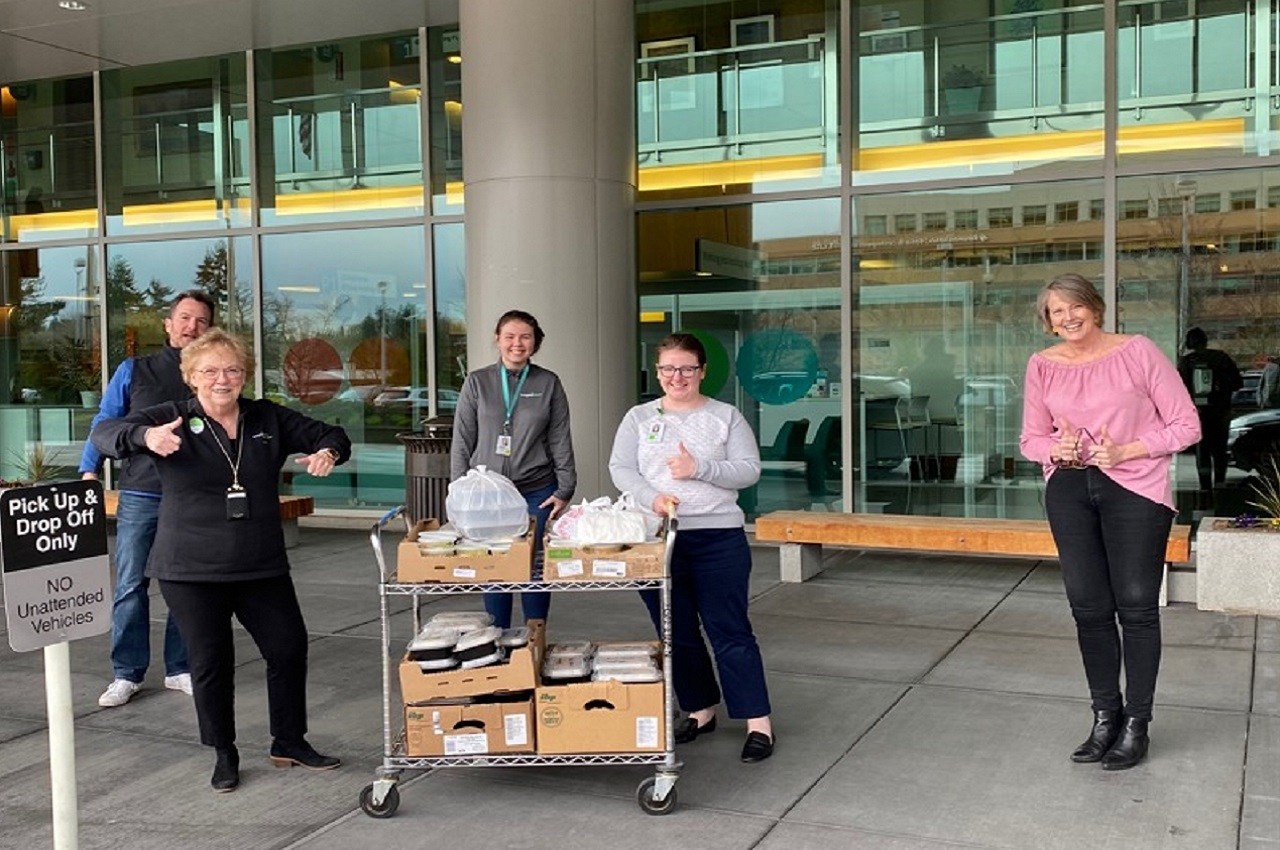 Since the onset of the coronavirus outbreak in Western Washington, Windermere agents have been living a core company value: being "citizen-agents" and serving as a "central part of the fabric of the community." Although residential real estate was declared an essential business (with limitations) during the Stay Home, Stay Healthy shutdown, brokers have shifted their focus from transactions to community service.
Following the company's recommended practice of "go slow and do no harm," agents across Seattle and the Eastside have stepped up to answer the calls of not only their clients but also first responders, healthcare workers and others serving on the front lines.
Examples abound of our agents' incredible commitment to their communities. Here are just a handful of the myriad efforts that Windermere brokers and staff have undertaken.
Early on in the local COVID-19 outbreak, which disproportionately impacted emergency services at EvergreenHealth, the brokers of Windermere East Inc. collectively started a drive to "feed the front lines."
Agents and staff generously contributed money and time to purchase meals from local restaurants and deliver them to emergency, critical care, clinic, and other essential hospital staff at facilities in Kirkland and Redmond.
Julie Taylor of the Bellevue West office, helped spearhead the drive, teaming up with other Windermere brokers to research the Evergreen staff's favorite restaurants, place orders and deliver meals. To date, more than 30 brokers have helped deliver meals and more from Royal India, Jones BBQ, Thai Kitchen, Cactus, Pomegranate Bistro and Lisa Dupar Catering, Cafe Paradisio, Café Veloce and Mercurys Coffee Co.
In a time of tremendous uncertainty, generosity and gratitude shine bright through this project, which quickly established a treasured and trusted partnership – not just between businesses, but between individuals caring for one another in a time of need.
The initiative was a resounding success, raising over $20,000 and providing over 1300 individual meals, to date.
Ron Upshaw and Don O'Neill, brokers at Windermere Midtown's Lakeview office and local radio personalities, partnered with Ming-Ming Tung-Edelman, founder of the Refugee Artisan Initiative, to personally deliver handmade masks to first responders and healthcare workers who were experiencing critical shortages of protective gear.
The Initiative's mission is "to transform the lives of refugee and immigrant women by providing sustainable work in sewing and handcrafting products." While their production lines normally focus on handmade jewelry and fabric home goods, Ming-Ming quickly shifted focus to sew masks in support of the 100 Million Mask Challenge launched by Providence.
Ron and Don amplified Ming-Ming's efforts and her GoFundMe page, and have served as her diligent delivery drivers to drop off hundreds of masks across the region.
Even while working remotely, the brokers of Windermere Real Estate / Seattle Northwest kept up their tradition of contributing "Pig Dollars" into a piggy bank at the start of every business meeting "for good karma and just because." This time via Zoom instead of in-person, they came together and collectively filled a virtual piggy bank. In just five minutes, they donated $1,100 to support North Helpline's food banks and emergency services.
The six Seattle offices of Windermere Real Estate Co. have long been intertwined in their neighborhoods and the Seattle community as a whole. When COVID-19 began to impact the caseload and safety of the medical professionals at UW Neighborhood Clinics, brokers swiftly took action. They started a drive to purchase and deliver two lunches per week to the entire staff at UW's five in-city clinics.
They partnered with James Beard Foundation award winner, chef Renee Erickson, and her restaurant, The Whale Wins, who will make the delicious, individually wrapped meals. The drive, which is ongoing, has a goal of raising $19,000 to provide over 1200 lunches.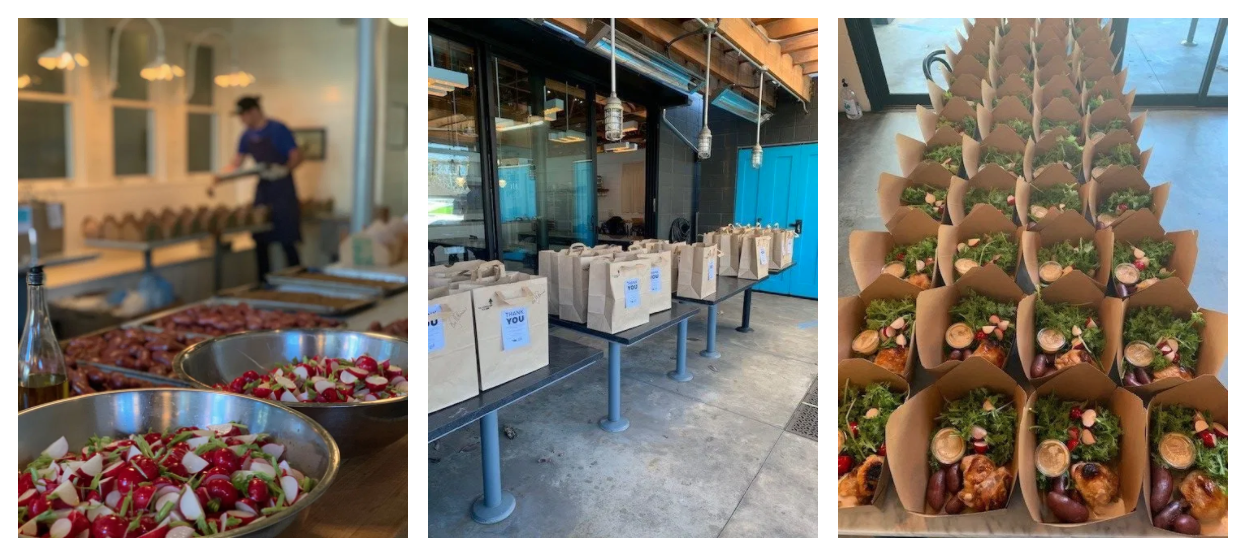 Windermere has also launched the "Neighbors in Need" campaign! The Windermere Foundation is matching up to $250,000 for our Neighbors In Need, will you help us reach our goal of $500,000 for our local food banks? Your donations stay local when you select your Windermere office when you give here: 
https://bit.ly/NeighborsDonate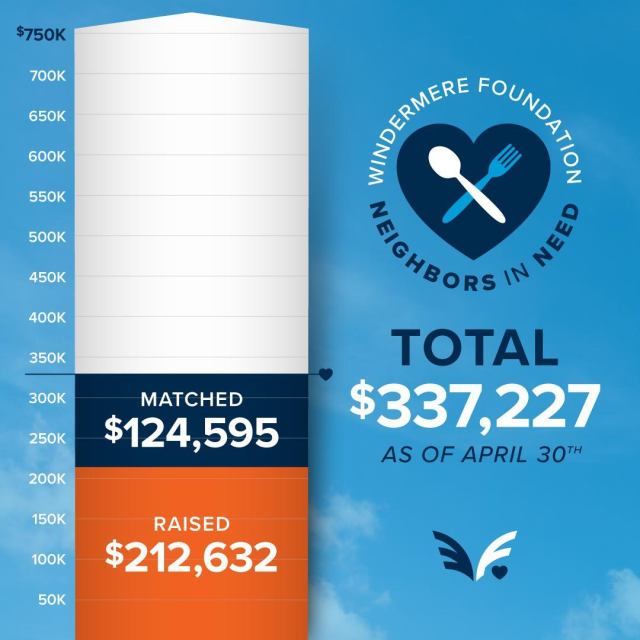 Posted on May 1, 2020 at 2:57 pm
Sandy Nicholls
Category:
Uncategorized
Tagged

all in for you, charity, foundation, frontline, giving back, healthcare, meals, money, neighbors, raise, Real estate, sandy nicholls, Windermere, workers