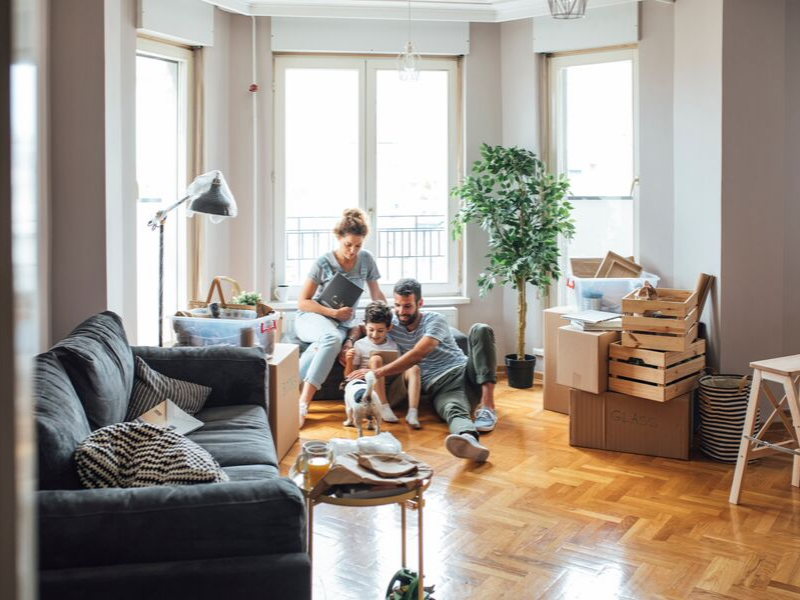 Congratulations on your new home! You made it through the arduous process that is buying a new home. Now it's time to take on the task of moving in.
You did your research about the neighborhood and you feel like you know the home like the back of your hand. However, there are some things to do as you move in to protect your newest investment, and yourself, from the unknown variables in and around your home.
Change the locks garage door codes
Previous owners might have changed the locks, but they may not know who all has a key or a code to open your garage, especially neighbors who they trusted to watch their place while they were away. Changing the codes and locks on all the doors ensures that you have complete control over entry to your home
Check or Install Fire and Carbon Monoxide Detectors
If the home already has fire and carbon monoxide devices, make sure they are in working order by testing each one with the tester button. Keep a note of when to replace them as well.
If they don't have them, install a device in each sleeping room, as well as common areas like the living room or kitchen. Hallways are a great place to cover multiple rooms with one detector as well.
Install a security system
Enjoy total peace of mind with a new security system. Meet with a consultant on the best ways to protect your home for a system that works best for you and your lifestyle.
There are also app-connected systems that you can set up yourself that notify you of movement on the cameras or doors and windows opening.
Meet the neighbors
Build a sense of community and get to know the lay of the land by knocking on neighbors' doors to get to know them. Bring a small gift as a "thank you" for dealing with the moving trucks. This is a great initial step for figuring out who you can trust to watch things while you're away should you need a helping hand in the near future.
These are just a few ideas on what you should do as soon as you move in. What are some things you do, or suggest to friends and clients on move-in day?
Do you have questions on buying or selling your home? Reach out for more information, Sandy Nicholls  (425) 444-4966
This post originally appeared on the Windermere.com Blog
Posted on October 9, 2019 at 5:16 pm
Sandy Nicholls
|
Category:

For Your Home, Home Buying
|
Tagged

bellevue, buying, buying a home, eastside, home, issaquah, kirkland, moving, moving in, Real estate, real estate agent, real estate broker, realtor, seattle, Windermere
A decrease in inventory coupled with an increase in sales activity led to fewer options for home shoppers in August. There is some good news for would-be buyers as mortgage rates have dropped to their lowest level in three years. Demand remains high but there simply aren't enough homes on the market. Brokers are hoping to see the traditional seasonal influx of new inventory as we move forward.
EASTSIDE
The median price of a single-family home on the Eastside was $935,000 in August, unchanged from a year ago and up slightly from $925,000 in July. New commercial and residential construction projects are in the works. Strong demand for downtown condos has prompted plans for yet another high-rise tower to break ground next year.
KING COUNTY
Home prices in King County were flat in August. The median price of a single-family home was $670,000, virtually unchanged from a year ago, and down just one percent from July. Southeast King County, which has some of the most reasonable housing values in the area, saw prices increase 9% over last year. Inventory remains very low. Year-over-year statistics show the volume of new listings dropped 18.5% in King County.
SEATTLE
Homes sales were up 12% in Seattle for August, putting additional pressure on already slim inventory. There is just over six weeks of available supply. There are signs that prices here are stabilizing as the median home price of $760,000 was unchanged from a year ago and up less than one percent from July. With its booming economy, demand here is expected to stay strong.
SNOHOMISH COUNTY
Buyers looking for more affordable options outside of King County pushed pending sales, mutually accepted offers, up nearly 16% over a year ago. Home prices have softened slightly. The median price of a single-family home in August was $490,000, down slightly from the median of $492,225 the same time last year.
VIEW FULL SNOHOMISH COUNTY REPORT
---
This post originally appeared on GetTheWReport.com
Posted on September 19, 2019 at 8:57 am
Sandy Nicholls
|
Category:

Housing Market News, Local Market Updates
|
Tagged

bellevue, Broker, eastside, home, Home Buying, housing market, local market, local market update, Real estate, real estate agent, real estate broker, realtor, seattle, selling, stats, Windermere